Online Electrical Courses for Virginia
Now you can study online, 24/7, at your own pace!
At Bobo Technologies we realize that as an electrical industry professional, balancing work, family and, well, just life, can be challenging. Our online electrical courses for Colorado are designed to give you the flexibility that you need to study for your license renewal or upgrade.
The following online electrical courses are approved for

 

Virginia

 

Continuing Education:
The following NEC 2017 courses ARE APPROVED by Virginia for license renewal in 2023.
REGISTER HERE

– NEC 2017 Code Changes – 3 Hours Continuing Education – $39
Our online courses are hosted by Digital Chalk. PLEASE READ THE FOLLOWING for the best experience possible.
Courses are presented in 1-hour Elements. If you step away from training there will be an "are you still there?" prompt every 5 minutes, you have 3 minutes to respond.
If you do not respond, training will end and you must start that Element over. If you need to step away from training, be sure to exit the Element. When you return, minutes, hours or days later, you can pick up right where you left off!
For more course details, see below.
NEC 2017 Code Changes – $39
(3 Hour Continuing Education Course)
NEC 2017 Code Changes is a 3 hour online, on demand course designed to meet NEC Continuing Education requirements for electrical license renewal in the state of Virginia as well as many other states.
The course curriculum covers:
2017 NEC Changes in Chapters 1-4 and their practical applications throughout the NEC
Practice review questions and answers
Please Note:
Not all of the states that have approved our Continuing Education courses for a classroom setting have approved them for our online electrical courses distribution. Be sure to select the online course approved for your state on the Digital Chalk website.  We are in the process of submitting applications to every state that will accept Continuing Education online.  NOT ALL STATES WILL ACCEPT ONLINE TRAINING FOR Continuing Education.
If you need Continuing Education for more than one state please contact our office for multiple certificates since each state has unique requirements and fees and course costs may vary.
---
* Depending on the state, additional registration and proctoring fees may apply.
NEC 2020 Exam Prep and Continuing Education Study Guide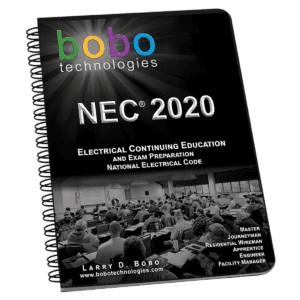 This is a 352-page workbook designed to work in conjunction with Bobo Technologies' Continuing Education and Electrical Exam Prep workshops and is also an excellent independent study tool.
This comprehensive workbook contains approximately 80 hours of home study material with over 1,000 Code questions and answers and over 650 practice calculation questions and answers.  Also highlighted are significant changes in the NEC 2020.
$50 Off
Your Next Exam Prep Class!
We would like to thank all of our customers who have been with us over the years, as well as our new customers, with $50 off your next "Live Online" Exam Prep Class.
Private Tutoring Now Available!
One on one time with Larry Bobo to get your specific questions answered.
Time is charged hourly.
Discount for previous students.
Connect live, online, meet from anywhere.
1 or 2 people, split the cost with a friend/co-workier.
Contact Larry directly to set up a day and time.
P.O. Box 951
Palmer Lake, CO 80133
We Like Hearing From Our Students